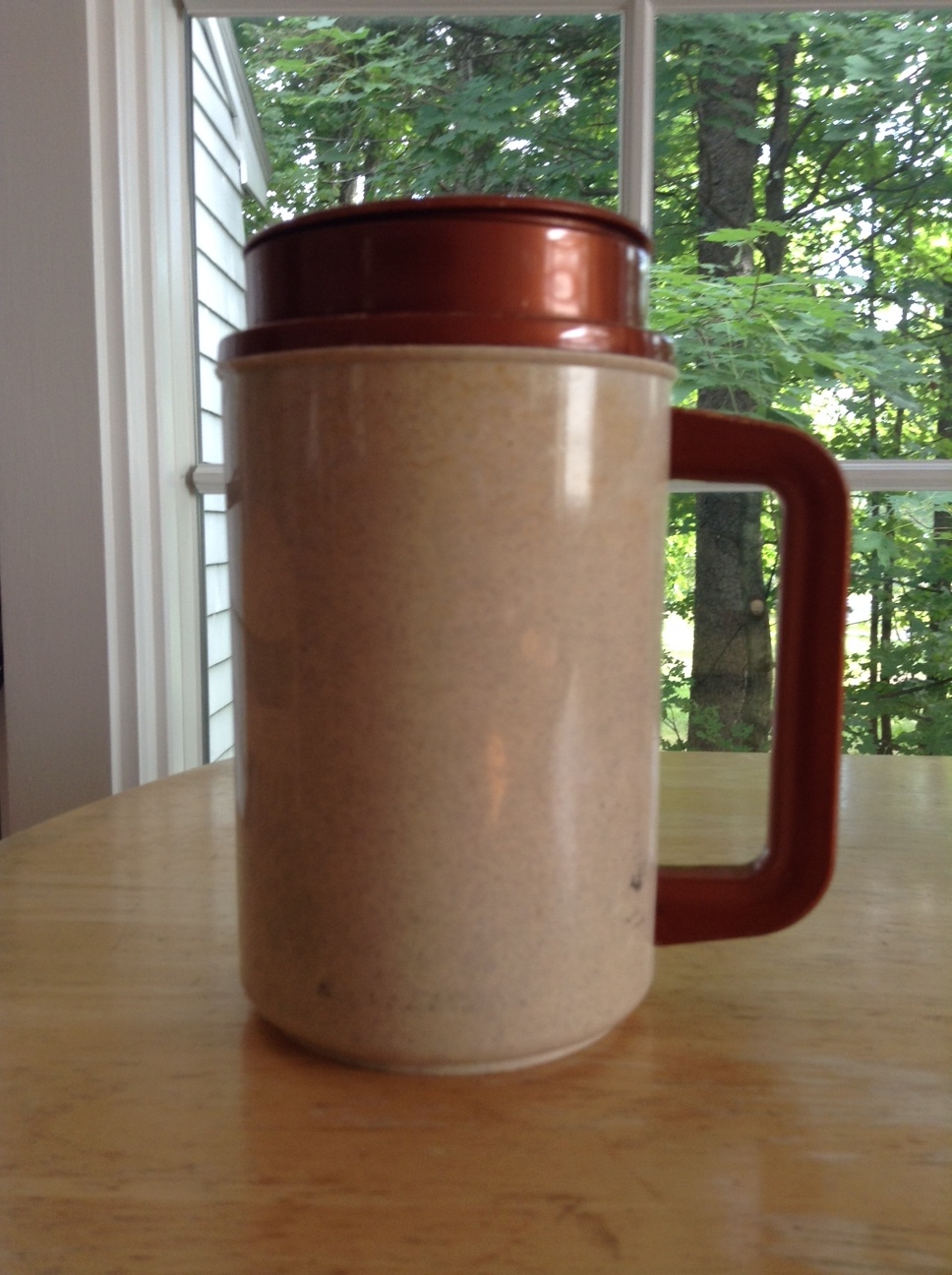 Do you know what this is? This is one of the last travel coffee mugs my father gave me. The last one of many, as like most things, he gave me a lot. One by one, the lids have broken, and this remains the last one: the last perfect sized coffee mug that I drink two full ones of every morning. Not the crappy, thin metal ones that don't fit right in the drink cup holder, not the ones, I can't even say it with a straight face, that aren't dishwasher safe, or the ones that are small on the bottom and top heavy and can tip over, but the perfect Thermos Brand Whirley Hot/Cold mug that I love, and love even more because my dad gave it to me. He knows how much I love coffee so this gift was great!  You know what else it is? It's apparently vintage. Yup, when I searched on this make and model travel mug, I found it listed on eBay as a vintage travel mug. Some were listed for $25.00! Now, don't think that will scare me off. Some of my friends could tell you the lengths I went to in order to continue to find my Fendi messenger bag with the long thin strap, when Fendi had the audacity to discontinue it. I'm still holding a grudge against Clinique for discontinuing Meadow Flower Honey Pot Lip Gloss. What were they thinking?! While I have a MiFi and an iTouch and iPad to go with it, I still want my LGEnV9900 cell phone with the world's greatest QWERTY keyboard. I'm all for progress, it just has to be better than what I had. I'm ahead of the curve on a lot of things, but I want my coffee mug, and if I'm being honest, I wish my dad was still here to give it to me.
I used to have a message scroll across my monitor as a screen saver that said, "Change is inevitable, growth is optional…resistance is futile." I also try to tell myself "If nothing changes, nothing changes." If I hadn't made some major changes, I wouldn't have lost 96 lbs. I may say I hate change, but not all change is equal. When I'm stuck in voicemail jail calling a business, I turn into the comedian Orny Adams and say, "This is the future?!" When I can order my movie tickets and chose my seat online, now we're talking positive change.
So you may have set a goal to get fit, eat healthier or lose weight, but you're going to have to make some changes to accomplish that goal. While I have yet to find a lip gloss that comes close to the perfection that was Clinique's Meadow Flower Honey lip gloss, I did part ways with my Fendi messenger bag. It no longer suited my mother of three boys lifestyle, and I moved on to a Burberry handbag that can fit my son's Epi-pen, an emergency Luna Bar, floss, coupons, reading glasses (which I curse the day I ever needed to start wearing), and all my devices since I won't part with my LGEnV9900 cell phone.
To quote Kenny Rogers, "You gotta know when to hold 'em, know when to fold 'em." If you've had enough of wanting to be fit, then it's time to make some serious changes. Change can be scary and unwelcome (yes, Clinique, I'm talking to you), but sometimes it's necessary for growth. We hold onto routines as they can be comforting and can give the illusion of some control in our lives. When faced with my hardest days, I tell myself that my workouts give me the strength to handle what life throws in my path. Since change is inevitable, design your own destiny! If along the way, however, you happen to see a Thermos Brand Whirley Hot/Cold Travel Mug, message me!
Comments
comments