When it comes to certain foods, I've realized that it's easier for me to have none than it is to have a little.  Much like the title of comedian Ron White's book, "I Had the Right to Remain Silent … But I Didn't Have the Ability" knowing this fact about myself has I'm quite certain saved me from consuming an extra gajillion calories.   My issue with some foods isn't even really portion distortion, but rather, I find myself reaching for the next bite while I'm still chewing the previous one.  It's not a coincidence that I call the Golden Oreo the "crack of the cookie world!"
Apparently, I have some sort of food color fetish, and so as a general rule, if it's white, and it's not cauliflower or a White Chocolate Macadamia Luna Bar, I try not to eat it.  There are plenty of diets that boast that you can lose weight and still eat pasta, white breads, and sugars.  While it's true a calorie is a calorie, I have yet to find myself satisfied after eating one slice of pizza or a half a cup of pasta, and worse, once those little starchy carbs hit my blood stream, I'm going back for seconds, thirds, and fourths.  After the blur clears, I would feel stuffed, puffy and remorseful.
I have made my workouts, like brushing my teeth, something I just do without question, and I always feel physically and mentally better after I have worked out.  The food side of the fitness equation is by far the toughest.  It's not unlike a phrase some alcoholics use to understand their limitations:  "I'm one drink away from a drunk."  If you find certain foods create an addictive response, it can be a startling fact to live with and manage successfully.
I think Dr. Atkins, while much maligned, was just misinformed.  You end up going crazy without carbohydrates, so attempts to eliminate them entirely will always end badly.  Significantly reducing your intake for the starchy white carbs, and replacing them with complex carbohydrate choices, however, can be both mind and body altering.  I tend to avoid pastas, breads, white rice, white flours, and added white sugars in my diet.  Truth be told, I don't have much bread at all, as I really believe that most "whole grain" wheat breads really don't offer much nutritional value.  I'm also not a huge fan of dairy, and if you see me with a glass of milk, chances are there is a fudgy brownie or birthday cake nearby.  I will use Greek yogurt occasionally as a swap for things I would have used sour cream for in a past life, like a veggie or onion dip.   Despite trying every single other combination known to the coffee drinking world, I still use a smidge of light cream and organic cane sugar in my coffee.  This is a vast improvement over my previous coffee order of "extra/extra."   It keeps me sane and able to maintain my cherub like demeanor when I'm around other people.
One time I inadvertently ordered a seafood risotto dish, which I thought was going to be some shellfish with a side of risotto, but instead, the waitress left me with a Jethro cereal bowl size dish with white, creamy risotto and a few shrimp and scallops mixed in.  When I found myself continuing to shovel this meal into my mouth at lightening speed, and realized the waitress was not coming back fast enough for me to ask her to box the rest up to take home, I dumped a mountain of black pepper on the dish to stop my feeding frenzy.   No one knows you better than you know yourself.  Try to make honest, intelligent choices about what you respond best to by eliminating, reducing or what you simply can't live without.  If I never had mayonnaise again, I wouldn't care, but my coffee is non-negotiable.  For me, this meant working towards reducing the cream and sugar in my morning cup, when eliminating it would make my mood turn darker than the coffee.
 Tips:
Avoid dancing with temptation.  I try not to let the server even leave the bread basket on the table at restaurants.
Swap sweet potatoes, brown rice, steal cut or old fashioned oatmeal for white potatoes, white rice and instant oatmeal or boxed cold cereal.
If you do drink milk, experiment with almond or coconut milks to find an alternative with less fat and calories that you enjoy.
Experiment with side dishes!  Try some riced cauliflower, spaghetti squash or zucchini or summer squash "zoodles" instead of pastas.
Instead of your typical sandwich breads, try lettuce wraps or I've found some oat bran and flax seed wraps that only have 80 calories, and are delicious!
Decide what keeps you sane, it's important when you modify your eating plan, to choose things you can live with long term.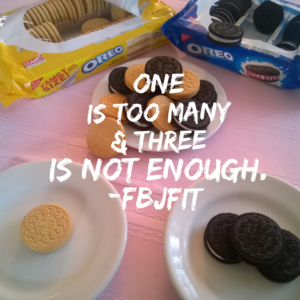 Comments
comments