Men may not be able to appreciate the magnitude of this statement, so I'll need to come up with a similar comparable comparison for them, but I believe I have found the "yoga pants" of footwear. It is certainly easy enough to find comfortable and supportive sneakers for your workouts, but the beauty of yoga pants is how you can transition the comfort of your activewear from the gym to your daily life. It is hard to find footwear that balances the proper support, comfort and fun style. I was more than intrigued when I first heard about OOfos, a line of "recovery" shoes that boasts that they help reduce the pressure and impact on your feet and joints and that there's science behind the claims.
The secret sauce of the OOfos line of footwear comes from a proprietary and unique "OOfoam technology" that was developed by the founders of OOfos with a foam chemist. The OOfoam aids in absorbing significantly more impact and stress on your body. The science behind the magic is based on a 2018 University of Virginia Laboratory Study. The study indicates that OOfoam is "37% more impact-absorbing than traditional footwear foams." The shoes are also made with special footbed that "cradles and supports arches to reduce energy exertion in the ankles by up to 20% when compared to competitors' footwear."
I ask a lot of my feet. As a fitness enthusiast, I am constantly doing new and different sorts of workouts and as an active mother of three, I'm on my feet a lot. I also deal with a lot of chronic back issues, so it's always been a challenge for me to find shoes that feel great and don't look like my late great Aunt Ozniv's orthopedic shoes. I admit it, I'm hard on my feet and while I deeply regret the many years of too high and too narrow heels I wore in my reckless youth, I've struggled to find anything other than sneakers that I can comfortably wear for any length of time. With all this in mind, I was truly hoping to feel the "oo in OOfos!"
As it's wintertime here in New England, I tried the Women's OOmg High Shoe first which retails for $129.95. It came in few color choices, but I opted for the Black & Black style. The first thing I noticed is that the shoes practically flew out of the box as they were incredibly lightweight.  I had expected the shoe to be more like a sneaker in weight, but they were much lighter. I promptly put them on and immediately noticed a difference in how my foot hit the ground when I walked. The bottoms of all the OOfos footwear are a bit rounded in the front and rear of the shoe and in a subtle way had a tremendous effect on how and what part of my foot landed first as I went about my usual routine. I found this feature particularly helpful when I walked on hard surfaces which typically results in an almost immediate pain in my lower back.
Encouraged by the "OO" factor I felt with the Women's High Shoe, I opted to try the OOfos Women's OOlala sandal next. This style retails for $59.95. I'm not a typical fan of flip-flop style shoes, mainly because of the lack of any kind of real support. Sure, I'll break out my cheapo flip-flops when I'm off to to get a pedicure or if I'm poolside or at the beach, but not a chance I'd be flip-flopping for longer than a few minutes, never mind wearing them all day as I see so many women do during the summer months. Again, it only took a moment to immediately feel a difference between the OOfos sandal and any variety of a flip-flop I'd tried previously. Most notably, there's a great arch support in the sandals that is completely absent in a traditional flip-flop. Again, I found the rounded fronts and backs of the OOfos completely changed how my foot would typically smack the ground and the lightweight foam sole absorbed the impact that would normally have me completely avoiding doing any kind of walking in this style of a shoe. It is also worth noting that the part of the shoe that separates your big toe from the other toes was not at all uncomfortable. I have had the misfortune of buying flip-flops that have caused pain and blisters even when wearing them for a short time based on the discomfort of the material that the separator was made from. It was a huge relief that this was not the case with the OOfos. I also was surprised how much less flop, or maybe it's flip, the shoe caused when I walked. With traditional flip-flop style shoes, I've found the back part of the shoe rises upwards and literally smacks my heels when I walk. The support and strap of the OOfos kept the shoe very close to my foot with no additional effort on my part and this eliminated both the smack and the sound so to speak. While there's a significant price difference between a typical rubber flip-flop and the OOfos sandals, the OOfos far exceeded my expectations in comfort and support. For anyone who's ever had their flip-flops break by the toe separator popping through the bottom of the shoe, you'll find the much sturdier construction of the OOfos alone worth the price difference.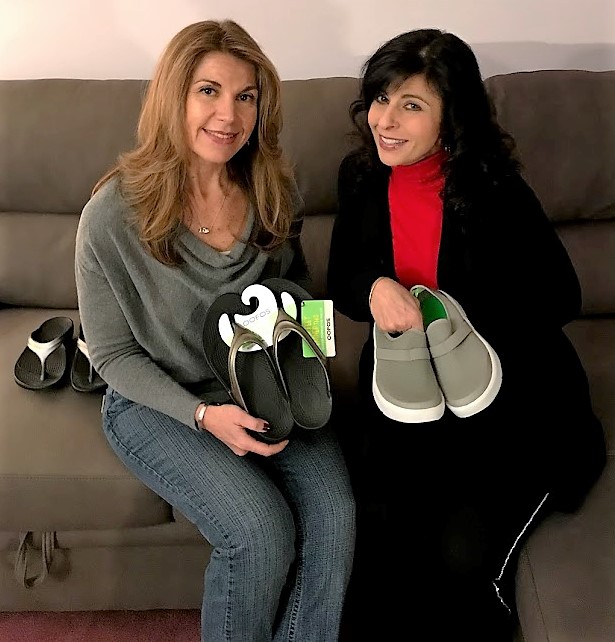 To round out the OOfos styles I was sampling, I opted for the new Women's OOmg Low Shoe in White & Gray which retailed for $119.95. Again, several color options were available, including a soon to be released adorable White & Pink option. Much like the other two OOfos styles, the low shoe was extremely lightweight and had the same feeling of reduced impact on my foot when I walked or stood for long periods of time. Like the Women's High Shoe style, the low shoe also boasts a roomy toe box area, which I found very comfortable. The low shoes slipped on and off very easily and were a stylish, casual option. The mesh top of the shoe was very breathable, which, if it ever warms up here, I'm sure I'll appreciate even more.
Overall, the OOfos shoes really did have me feeling the OO! For me, they were a long-awaited answer to find a shoe that wasn't a sneaker that offered comfort and support. The recovery aspect of not putting my poor, abused feet through more torture when they weren't working out was a bonus. I think anyone that has dealt with back, knee or ankle pain will appreciate the noticeable difference how stress and impact is distributed differently. The prices were more in line with a good athletic shoe and in my mind and painful experience, comfortable shoes are priceless! I can only hope that somehow the OOfoam technology finds its way into a dress shoe! Oh, and gentlemen, take heart, while I may not have found the perfect male counterpart to compare the comfort of yoga pants, OOfos offers a wide assortment of styles in their men's line as well. Be ready to OO and Ah!
To check out OOfos for yourself and to enjoy a special 15% discount: http://rwrd.io/aw44ade
Check our video review of OOfos Footwear at: https://youtu.be/3zLgoR8iMTI
The OOfos shoes were gifted to me to review, however the content of my posts and review are my own true opinions and are not influenced by any partnerships or collaborations. Some of the links in this post are affiliate links and if you go through them to make a purchase I may earn a commission. Keep in mind that I link these companies and their products because of their quality and not because of the small commission I may receive from your purchases. The decision is yours, and whether or not you decide to buy something is completely up to you, but I take my referrals and recommendations very seriously and only recommend products I truly use and believe in.
Comments
comments