"Blow your mind, not your hair!" was the caption to the first advertisement I saw for the RevAir Reverse Air Hair Dryer.  I was instantly intrigued as my hair takes FOREVER to blow-dry and admittedly, I feel like a klutz who could benefit by having a third hand to juggle a hair dryer and a round brush effectively.   I am naturally skeptical of things that venture into "sounds too good to be true" territory, but I couldn't resist the claims of hair drying three times faster while simultaneously smoothing and straightening.  My hair not only tends to frizz, but this is made worse if I don't thoroughly dry my hair.  A thorough blow-out and going over my hair again with a flat iron is a time-consuming affair that comes with a lot heat exposure.  The RevAir touts using significantly less heat, causing less damage to your hair while leaving your hair so soft, they claim that you won't be able to stop touching it.
I reached out to RevAir and they were kind enough to send me one to review.  I was practically camped out on my front steps awaiting it's arrival.  A sizeable box arrived with my much-anticipated dryer and I eagerly dove in.  My RevAir came with the base unit, four professional hair clips, spray bottle, a mesh accessory bag, a stand and several of the RevAir haircare products in a canvas carrying case.  Assembly was minimal and straight-forward.  You pop the filter into the opening and then snap and lock the end of the hose unit into the base.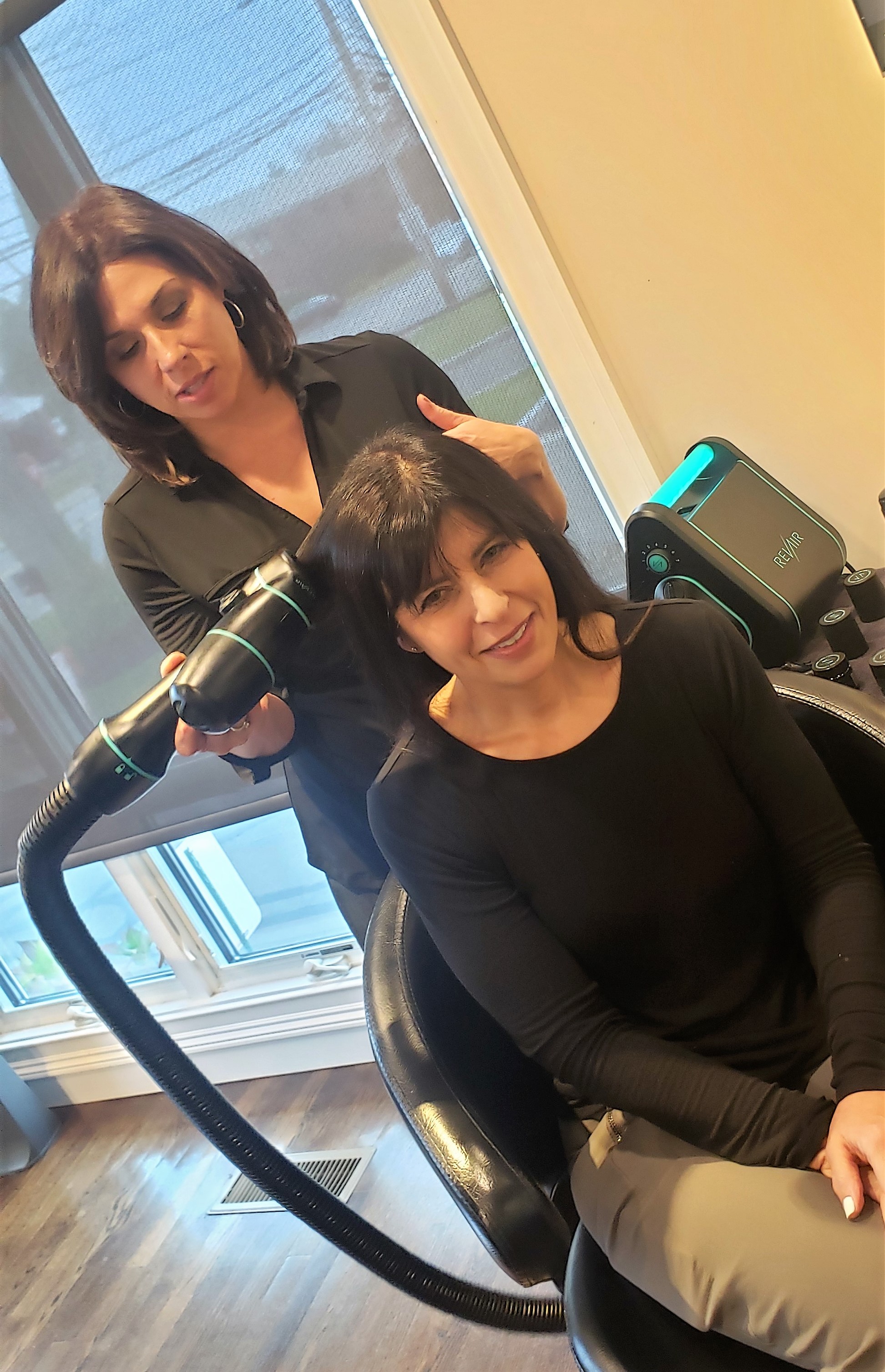 After washing my hair, I opted to try the RevAir first without any haircare products.  As suggested, I sectioned off my hair using the clips.  The RevAir wand has three temperature control settings:  high temperature (800 watts); no heat; and low temperature (400 watts).  On the base unit is a dial setting that goes from zero to seven.  The instructions suggest starting at the lowest setting (1) and bumping up the settings one at a time to find your ideal tension level setting.  I unclipped my first section of hair, turned the power on from the base unit, had the heat setting on low, and the dial set to one, and said a small prayer before inserting the first section into the hose.  My initial concerns about the entire RevAir concept was two-fold:  1.  would my hair get pulled into the hose too strongly causing discomfort or damage; and 2. would the hose pull in hair outside of the section causing it to tangle.  I was not sure what to expect to be honest, as it was unlike any other hairdryer I had seen or tried before.  The initial caution warning about not wearing any essential body oils when using the product had me oddly curious as to why not but wasn't a deterrent for me since I don't use them.
I wasn't sure what to expect when I turned the unit on as it does somewhat resemble a vacuum cleaner of sorts, and a little reminiscent of the Flowbee Haircutting System, however, I found the volume levels comparable to my standard blow dryer.   I found the wand unit was lighter to hold than a typical blow dryer.  The instructions state that after you insert a section of hair into the wand, you simply need to move the base of the hose slightly against your head in a small circular motion to give the roots some lift and volume.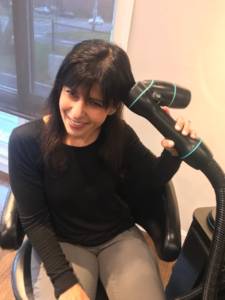 I was stunned at how the RevAir worked. It was effortless to put the hair into the tube and little else needed to be done.  I did move the wand occasionally in small circles as directed, and only needed to keep the wand in place for approximately 45 seconds to dry that area.  I had no issues whatsoever with tangling or the wand pulling in hairs outside of the section placed in the unit as I had feared.  I continued to move the dial up to 5 and I put the temperature on high heat.  As promised, my hair was extremely soft and dried very quickly. I sectioned my hair into six sections and each section took 45 seconds to dry.  What was impressive was how you didn't feel hot or sweaty as is often the case when you are blow-drying your hair.  My hair and scalp also felt cool to the touch.  What was also quite a surprise was the lack of pressure on my hair.  The hair, once in the wand, didn't feel the tugging that you get when you are using a round brush with a traditional blow-dryer.  I also found you lost far less hair using the RevAir unit than with a traditional blow-dry. When I was finished, I took out the mesh filter and there was a small collection of hair, but not nearly as much as what ends up in my brush after a thorough blow-out.
The size of the unit is noteworthy.  It is larger than a standard blow-dryer and really isn't a device I would travel with due to its size.  This made me sad as being able to quickly smooth and dry my hair while traveling, would be a major bonus!  I'm still experimenting with using the RevAir on my shorter front bangs to see what works best.  The price is also heftier than your typical blow-dryer, ranging from approximately $309.00 for the RevAir Reverse Dryer to $429.00 for the RevAir Total package Bundle, which includes the items I was sent (spray bottle, 4 hair clips, mesh case, travel bag and spray bottle).  For me, the time savings, the smoothing and straightening in one step, less hair loss, less damage and ease of use, would make the RevAir a worthwhile investment.  Additionally, as it smooths and straightens, if you factor in the cost of a professional grade flat iron, the RevAir may actually be less expensive.  Where I was able to use one product, instead of two, subject my hair to less heat and damage risk, all while saving time, as RevAir promised, my mind was blown!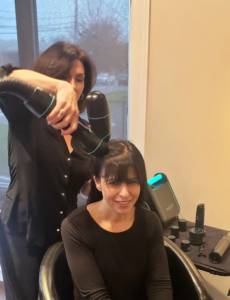 To learn more or to place an order and check out current discount offers, click here: RevAir  Enter FBJFIT as a code code at check out and get 10% off your purchase
The RevAir Reverse Air Dryer was gifted to me to review, but the review is not sponsored, and the content of my posts and review are my own true opinions and are not influenced by any partnerships or collaborations.  Some of the links in this post are affiliate links and if you go through them to make a purchase, I may earn a commission. Keep in mind that I link these companies and their products because of their quality and not because of the small commission I may receive from your purchases. The decision is yours, and whether or not you decide to buy something is completely up to you, but I take my referrals and recommendations very seriously and only recommend products I truly use and believe in.
I teamed up with Juliana Capillo of Juliana's Salon in the latest FBJ Fit Friends & Fitness review for the RevAir Reverse Air Hair Dryer. We both share our thoughts and Juliana, a master stylist, was able to share some tips on sectioning the hair for use and her expert opinion!
Comments
comments