Justin Torkildsen likes to go fast, whether it's skiing at an elite level, driving, cycling, or winning a daytime Emmy Award by the time he was 20 years old for his role as Rick Forrester on the daytime drama, The Bold and the Beautiful. I was able to catch up with the Amazon's STUDiO CiTY star to talk about what drives him, his motivations, his passions and what's next for the talented actor.
*What was it like to win an Emmy Award when you were only 20 years old?
I first began acting in theatre at twelve years old when I auditioned for the role of Louis, Anna's son, in the production of The King & I. While I had been on track to pursue a career as a professional skier, I came to a crossroads and followed my passion for acting. An agent saw me in a theatre production in Denver and told me to come out to Los Angeles to audition. The week before I graduated high school, my agent called about a role on The Bold and the Beautiful and two days after I graduated, I was told I got the part of Rick Forrester and would start in several weeks. In terms of winning an Emmy shortly after that, it was surreal and completely unexpected. I was blessed with amazing material that involved the loss of a child. Winning the Emmy was exciting and was an incredible validation of the effort I put in and the difficult decision to leave Colorado for California. I accepted my award when the Emmy Award Show was held at Radio City Music Hall and just being on that stage and receiving an Emmy Award was just an extremely special experience.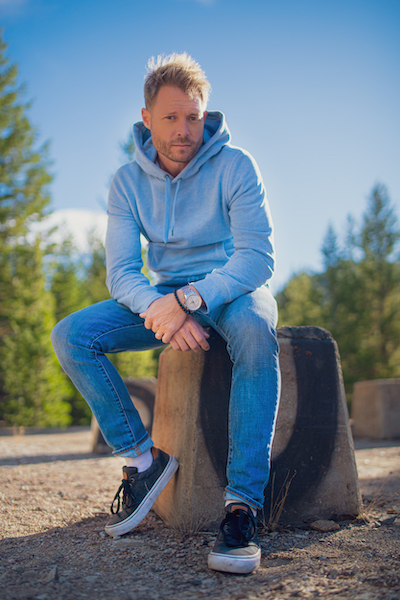 *Do you have any interesting fan experiences?
Daytime fans are just so passionate and loyal, and I remember being overwhelmed with just how worldwide the audience viewership is for The Bold and the Beautiful. We were filming on location in Venice, Italy, when word got out and suddenly there were 40,000 people swarming the area. It started to get out of hand, and several of us took cover in a nearby restaurant. Suddenly, the restaurant's glass windows were shattered, and we were asked to leave because of the mob scene that our presence in the restaurant was creating. Thankfully, most fan interactions aren't like this one and I am always so grateful for the continued support they show me.
*STUDiO CiTY recently won an Emmy Award for Outstanding Limited Series, what has it been like working on that project?
I have absolutely loved being a part of this project. I first met Sean Kanan, back in 2000 when we were both on The Bold and The Beautiful, and he has been such a great friend over the years. I remember him talking with me about the concept of a show about the behind-the-scenes dramas of daytime television. It has been so exciting to see not only the concept brought to life in such a well-crafted manner, but to work with Sean again and so many other talented actors and crew members. We just finished filming new episodes that I think the fans will really enjoy.
*What's your dream role?
It would be amazing to be working on something in my acting career that included my lifelong love of cars. I would love to be involved in a film that is along the lines of a historical automotive documentary style, in the vein of Ford v Ferrari or Tucker.
*What does your typical fitness routine consist of?
Being active has just always been a part of who I am. I grew up near Aspen, Colorado and would ski daily. The feeling of going so fast was just an incredible adrenalin rush! Early on, I was working towards becoming a professional skier. I still love to ski, but being in Los Angeles now, I have incorporated other aspects of working out into my daily routine. The pandemic really helped me develop a love of cycling. I aim to get in at least a twenty mile ride a day and have come to appreciate the level of discipline that cycling has brought into my life. I also am training to do the California Aids Ride in June as well as some other longer distance charity rides. Weight training, pushups and sit-ups are also part of my exercise routine. My wife is also an avid runner and I try to run with her at least once a week.
*How do you keep yourself so motivated to stay so active?
I tend to think that whenever I don't feel like doing something, it means I probably should! I think this applies to a lot of things that are good for you. I always have an incredible surge of feeling accomplished when I get my workout time in, and I try to put the focus on that "after" feeling to fuel those times when I am less enthusiastic about starting. As is true for most things in life, starting is half the battle!
*Considering how active you are, what do your meal choices look like?
Admittedly, I have quite a sweet tooth and when I'm working hard, I will definitely splurge, and most often that would be on some Ben & Jerry's Cookie Dough ice cream. Honestly though, I really enjoy cooking and I try to balance what helps me feel my best. On the days when I am doing intense cycling and burning 4-5000 calories, I am sure to carb up beforehand. I am also a fan of Huel Meal Replacement Shakes. Lunch tends to be a sandwich and I'm quite fortunate to have frequent access to a delicious Mediterranean salad as my wife is a vegetarian. A typical dinner for me would be some steak or chicken for protein with some pasta.
*If you could be an instant expert at anything, what would you pick?
I would love to be able to just effortlessly play the piano.
*How do you deal with a setback?
I think the pandemic has forced a shift in all of us to reexamine how we deal with unfortunate and unplanned circumstances. In some respects, I made the most of it, by building and restoring bicycles. I especially love working on vintage bikes or creating something special or unique. I did suffer a bad biking accident, where I broke my collarbone and shattered my wrist. The entire experience forced me to let myself heal and ramp back up again when I was able. My wife and I were married just before the beginning of the pandemic, and as she is Israeli and was in the process of applying for a green card, she was essentially stuck here, and we were both unable to travel overseas until quite a while later. I think the lesson is that you can't always plan for what life throws in your path, but you can control how you respond to it.
*What is next for you?
I'm excited for the opportunity to work more on STUDiO CiTY and to pursuing other television and film work.
Just before the pandemic struck, I had been working towards a concept for a car show that was different from what is out there now. I wanted to feature interesting travel destinations for car enthusiasts along the lines of what Anthony Bourdain did with food and travel. There are so many incredible car collections, museums, and experiences around the globe. Much like skiing and cars, life happens fast, you need to be ready for what opportunities come your way!
Comments
comments