Few foods rival the health benefits of oatmeal.  Oats are a heart healthy, nutrient-dense superfood that can not only help lower your cholesterol and blood sugar, but are a great source of antioxidants and soluble fiber.  Oats are filling, can improve your gut health, and help with weight loss.  When it comes to oatmeal, it's time to think outside the bowl!  Try these craveable creations worthy of this powerhouse grain. 
Cookies for breakfast!
Giant Oatmeal, Banana, Peanut Butter Breakfast Cookies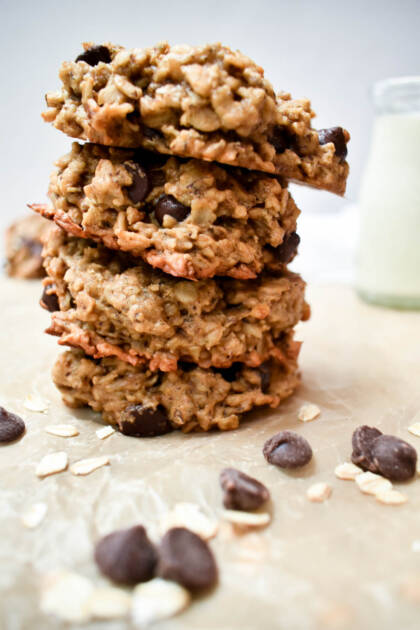 Recipe and photo courtesy of Sarah Gold Anzlovar, MS, RDN, LDN, owner of Sara Gold Nutrition @busy.mom.nutrition
Ingredients
1 large overripe banana, mashed
2 eggs
2 Tbsp ground flax
1/4 cup maple syrup
1 tsp vanilla extract
3 1/2 cups rolled oats
1 cup peanut butter
1 tsp baking soda
2/3 cup chocolate chips
Directions:
Preheat the oven to 350F. Beat banana, eggs, flax, maple syrup, and vanilla until well blended.
Stir in oats, peanut butter, and baking soda until mixed. Stir in chocolate chips until evenly distributed through batter.Do not over mix.
Using a 1/4 cup measuring cup, scoop a heaping scoop of the batter onto a parchment-lined (or use a baking mat) baking sheet. Flatten the cookies down a bit with the back of the measuring cup. For smaller cookies, fill only half the measuring cup or use a heaping tablespoon.
Bake for 12-14 minutes, until cookies start to get a golden brown edge. Smaller cookies will need less baking time, so check after about 9-10 minutes. Remove from the baking sheet and let cool on a wire cooling rack. Store in an airtight container on the counter for up to 3 days or in the freezer for up to 2 months.
Nutrition Information: YIELD: 16 SERVING SIZE: 1 Per serving 
CALORIES: 232 , TOTAL FAT: 12g, SATURATED FAT: 3g, TRANS FAT: 0g, UNSATURATED FAT: 7g, CARBOHYDRATES: 26g, FIBER: 4g, PROTEIN: 7g
---
Have a ball!
Chocolate Almond Butter Protein Balls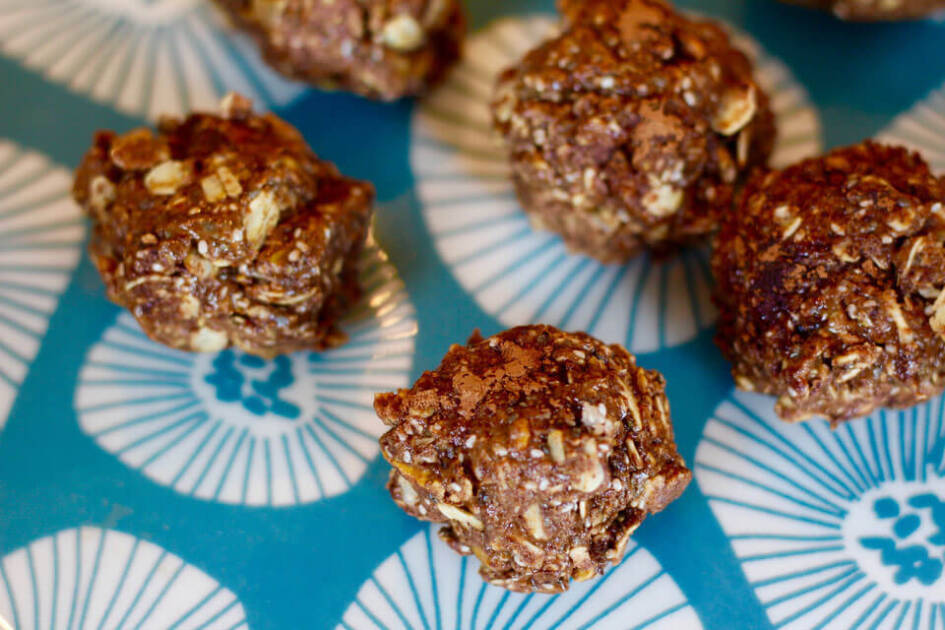 Ingredients:
1 ½ cups oats
1 cup almond butter
1/3 cup chia seeds
1 Tablespoon + ½ teaspoon unsweetened cocoa powder, divided
¼ cup pistachios, chopped
1 teaspoon vanilla extract
Directions:
In a medium bowl, mix oats, almond butter, chia seeds, 1 Tablespoon cocoa powder, pistachios, and vanilla extract with a spoon until well combined.
Roll into balls with hands, then place on parchment paper in an air-tight container.
Dust with remaining cocoa powder. Refrigerate or freeze for a few hours or overnight.
Nutrition Information: YIELD: 14 balls SERVING SIZE: 1 Per serving 
CALORIES: 180 , TOTAL FAT: 13g, SATURATED FAT: 2g, CARBOHYDRATES: 2g, FIBER: 12g, PROTEIN: 6g
---
Not your mother's oatmeal!
High Protein PB&J Overnight Oats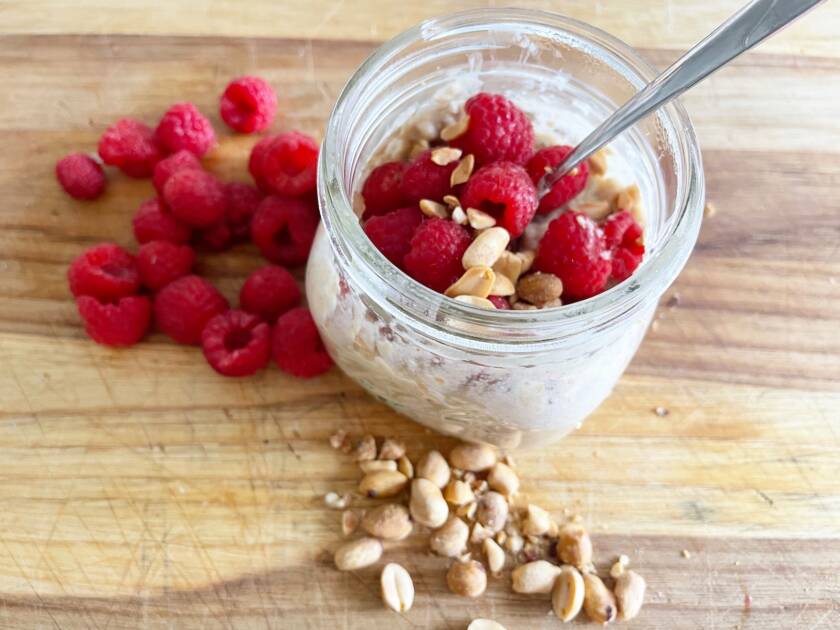 Ingredients:
1 cup Planet Oat Unsweetened Oat Milk
2/3 cup old fashioned rolled oats
1 container Fage plain Greek yogurt
2 tablespoons creamy peanut butter
1 teaspoon chia seeds
Toppings:
1/2 cup fresh raspberries
2 tablespoons unsalted peanuts crushed
Directions:
Combine oat milk, oats, yogurt, peanut butter and chia seeds in a large bowl.
Divide mixture between two bowls or glass jars. Cover, and refrigerate overnight.
When ready to enjoy, top each bowl with half the raspberries and crushed peanuts and enjoy!
TIP: If oats are too stiff, stir in additional oat milk.
Nutrition information: Yield 2 servings SERVING SIZE 1
329 calories; 34g carbohydrate; 15g fat; 20g protein; 7.5g fiber
---
Bake it easy!
Easy Make-Ahead High Protein Baked Oatmeal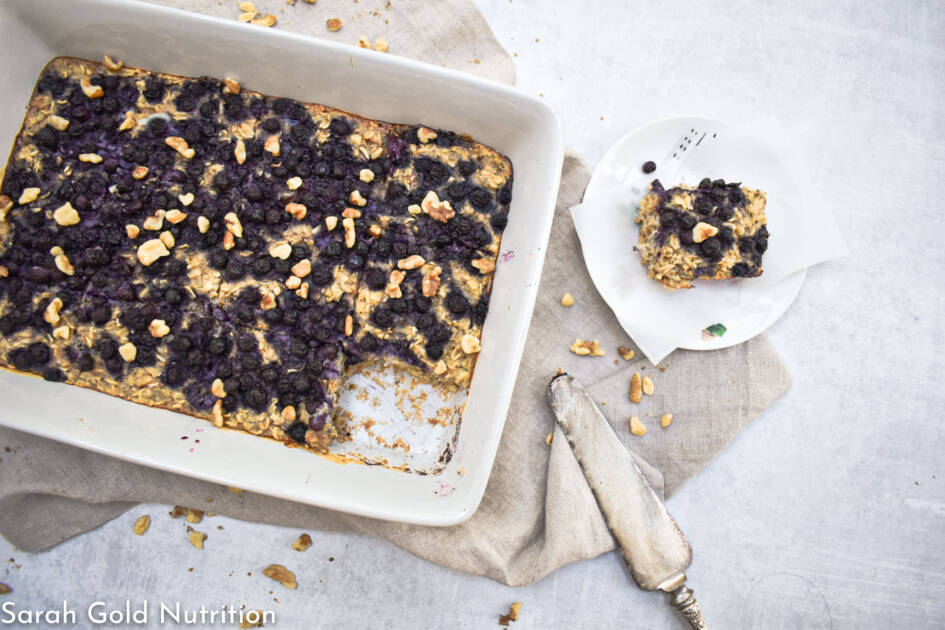 Ingredients:
2 cups rolled oats
2 Tbsp chia seeds
1/2 cup walnuts
1 tsp ground cinnamon
1 tsp baking powder
2 Tbsp coconut sugar or brown sugar
2 cups unsweetened milk (cow's, almond, soy, or your favorite)
3/4 cup Greek yogurt (or plant-based alternative)
2 eggs
1 tsp vanilla
1 cup frozen wild blueberries or other fruit of choice
Optional toppings: more fruit, more chopped walnuts, maple syrup, nut butter
Directions:
Preheat oven to 375F
Mix dry ingredients in a bowl (oats through the sugar).
Whisk milk, eggs, yogurt, and vanilla in a separate bowl. Add wet ingredients to the dry and stir until just mixed.
Pour mixture into a 9×13 pan. Scatter blueberries or other fruit on top. You can also mix the fruit into the batter if you prefer it to be spread more throughout.
Bake for 35 minutes, until the top is golden brown and oatmeal is set. Serve warm.
---
Step up to the bar!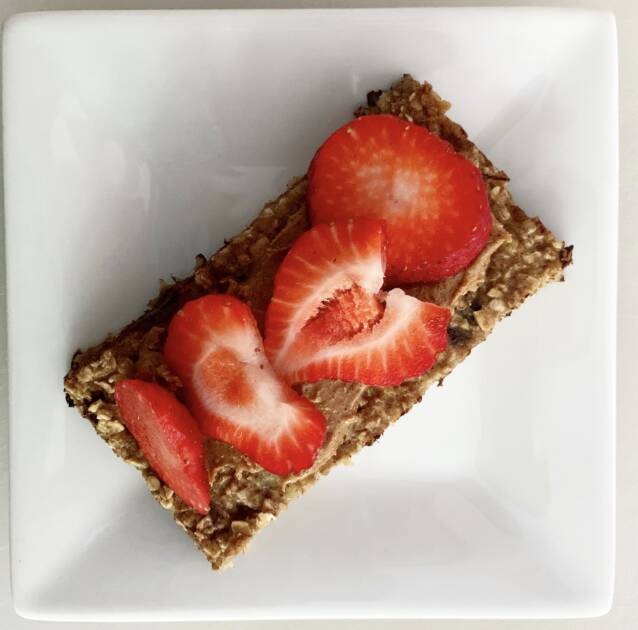 Ingredients:
2/3 cup rolled oats
2 very ripe bananas
1 Tbsp Dark Chocolate Chips
1 Tbsp Golden Raisins
Topping:
3 Tbsp Natural Peanut Butter
3 Large Strawberries, sliced
Directions:
Heat oven to 350 degrees F. Spray a rectangular pan (I used half of an 8×8 pan) set aside.
In a medium bowl combine oats through raisins. Pour into the pan and form into a rectangular shape.
Bake for 12-15 minutes or until set. Remove from the oven and let cool before cutting into three equal squares.
Spread 1 tbsp peanut butter on a single bar and top with sliced strawberry. Repeat with the remaining bar.
Nutrition Information: Yield 2 bars SERVING SIZE 1
279 Calories; 43g Carbohydrate; 11g Fat; 8g Protein; 63mg sodium; 6g Fiber 
---
Get nutty!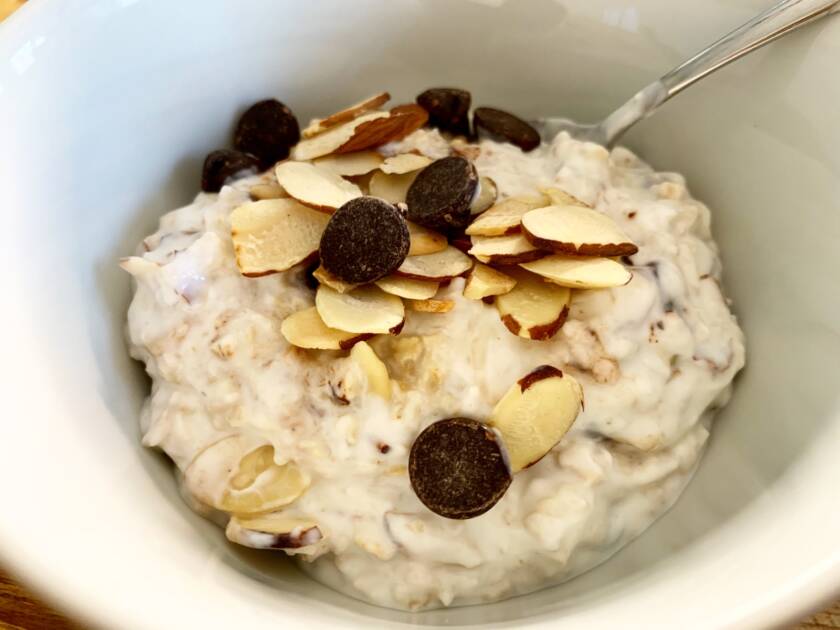 Ingredients:
1/3 cup quick cooking oats
1 tbsp dark chocolate chips
2 Tbsp slivered almonds
6 oz. fat free coconut flavored Greek yogurt
Directions:
Cook oatmeal with water according to package directions.
Meanwhile, toast almonds in a skillet
Stir yogurt into cooked oats, top with chocolate chips followed by toasted almonds.
Makes: 1 Serving
Nutrition Information:
350 Calories; 23g carbohydrate; 12g fat; 17g Protein; 3g dietary fiber, 175mg sodium
Comments
comments