Perhaps just thinking of your mother conjures up thoughts of incredible home cooked meals, but if your mother is anything like mine, she may confess that sometimes it is a welcome break to have someone else take care of things in the kitchen. My mom loves to say, "Food just tastes better when someone else makes it for you!" If you're thinking of how to show your mom some extra love this Mother's Day, why not treat her to a well-deserved full day off from meal planning and preparation? Here are some delicious recipes that are sure to make your mom feel extra special this Mother's Day (or any day)!
Start the morning off right…by making breakfast the night before!
Strawberry Cheesecake Overnight Oats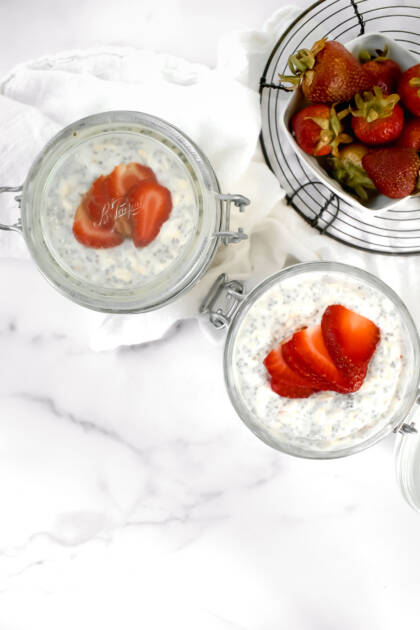 Ingredients:
· 1 cup rolled oats
· 1/4 cup chia seeds
· 1 1/2 cups unsweetened almond milk or other milk of choice
· 3/4 cup plain Greek yogurt (2% or full fat recommended)
· 1 tsp honey
· 1 tsp vanilla extract
· zest of 1/2 lemon
· 2 tsp plain cream cheese
· fresh or frozen strawberries for topping
Instructions:
1. Add oats and chia seeds to a medium (12 oz) jar or container.
2. In a separate bowl whisk together milk, yogurt, cream cheese, honey, vanilla extract, and lemon zest. Pour liquid into the jar with the oats and chia and stir around. Cover tightly and shake until well mixed. Add a couple of sliced strawberries if you'd like at this point.
3. Store in the fridge for at least one hour up to overnight. Serve with more sliced strawberries.
Notes: Makes two servings. Make it vegan: use agave or maple syrup instead of honey and choose a plant-based yogurt. Make it gluten-free: use gluten-free oats. Store in an airtight container for up to 4 days in the refrigerator.
A lunch so lovely and light, and mom can share (if she wants to!)
Crustless Asparagus-Leek Quiche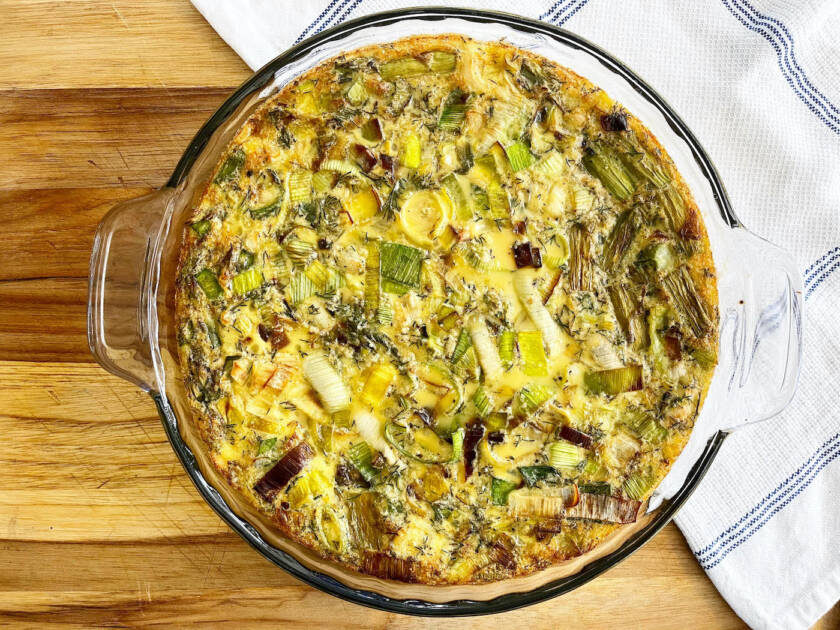 Ingredients:
· pinch of salt
· 2 leeks, halved and sliced into thin slices (whites only) *
· 1 tbsp olive oil
· 1-pound fresh asparagus
· 5 Whole eggs
· 1 ¼ cup liquid egg whites (10 egg whites)
· 1/4 cup 1% milk of milk of choice
· 1 tsp salt
· 1/2 tsp garlic powder
· 1 tbsp fresh dill, finely chopped (or 1/2 tsp dried dill)
· black pepper, to taste
· Cooking spray
Instructions:
1. Preheat the oven to 400 degrees F. Spray a 9-inch pie pan with cooking spray. Set aside.
2. For the Leeks: Heat 1 Tbsp olive oil in a large skillet on medium heat. Add sliced leeks and cook for 5 minutes, stirring frequently. Reduce heat and continue to cook for another 5 to 10 minutes and stir more often. Reduce heat slightly and add a tablespoon of water if leeks begin to stick or are getting too brown.
3. Asparagus: While leeks cook, chop off woody ends of asparagus, arrange on a baking sheet, spray with cooking spray and roast for about 10 to 15 minutes or until spears begin to soften. Toss them halfway through. Remove from the oven and allow to cool slightly. Reduce oven heat to 350 degrees F.
4. Roughly chop asparagus and place into a prepared pan with cooked leeks. Mix to combine.
5. Whisk together eggs and egg whites, milk, salt, garlic powder, dill, and pepper. Pour egg mixture over vegetables.
6. Bake at 350 degrees F for 35 to 40 minutes, until the center is set. Remove from the oven and allow to cool slightly for about 10 minutes. Gently run a knife around the sides of the pan and carefully cut into 4 slices. Enjoy with an arugula salad and crusty bread if desired.
*Notes: Makes: 4 Servings. Cut leeks in half and rinse very well as they tend to have dirt caught inside.
A delightful dinner that mom may not believe you made without her help!
Pork Chops Bada Bing

Ingredients:
· ¼ cup Ketchup
· 1 tsp Chinese chili paste
· 1 TBSP orange marmalade
· 1 tsp chopped garlic
· ¼ cup olive oil
· ¼ cup pineapple
· 2 tsp soy sauce
· 1 shallot
· 4 boneless pork chops
· 1 tsp cinnamon
· ¼ cup brown sugar
Instructions:
1. Combine all ingredients together in a quart size resealable bag. Place in the refrigerator until ready to cook. They can be marinated overnight if desired.
2. Preheat the grill or if you don't have a grill, you can use the broiler in your oven.
3. Remove the pork loins from the bag and place on the grill or under the broiler. Cook for about 7 minutes on each side until cooked to desired temperature on a meat thermometer.
4. Garnish with papaya and paprika if desired.
Notes: Serves 4.
Braised Red Cabbage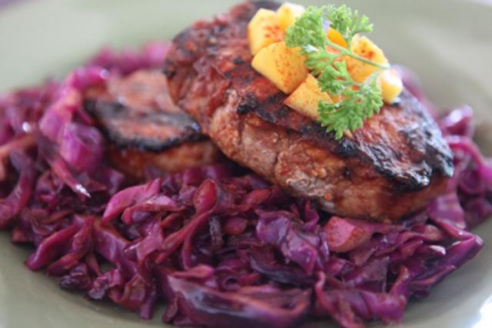 Ingredients:
· 1 red cabbage
· 1 TBSP apple cider vinegar
· ¼ cup olive oil
· 1 tsp nutmeg
· ½ cup low sodium chicken broth
· 1 tsp cinnamon
· 1 TBSP minced garlic
· ¼ cup balsamic vinegar
· salt and pepper to taste
Instructions:
1. Chop cabbage into 2" long strands.
2. Heat olive oil in a large sauté pan over medium heat.
3. Add cabbage and sauté until the cabbage is slightly softened.
4. Add garlic, apple cider vinegar, nutmeg, cinnamon, and balsamic vinegar.
5. Stir together.
6. Add chicken stock then reduce heat and cover.
7. Simmer for approximately 7-10 minutes until liquid reduces.
Notes: Serves 4.
Raise a glass to toast your mom with something extra festive to thank her for all her love and support!
Champagne Punch Cocktail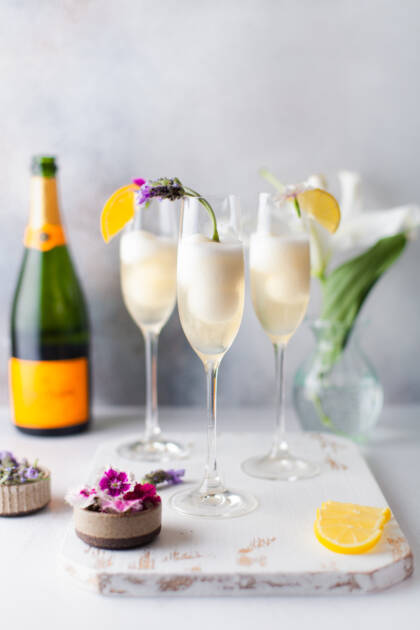 Ingredients:
· 1 bottle Chilled Champagne or Prosecco (like Fitvine Wine Prosecco)
· 1 pint lemon sorbet or your favorite flavor!
· Fresh fruit or edible flowers for garnish. I like to use lavender and other edible flowers.
Instructions:
1. Chill your glasses for 30 minutes to an hour before using.
2. Fill each glass with 2 to 3 small scoops of sorbet.
3. Slowly add chilled Champagne or Prosecco.
4. Garnish with fresh fruit or flowers.
5. Serve immediately and enjoy!
A sweet treat to finish off her special day!
Cranberry Oats Scones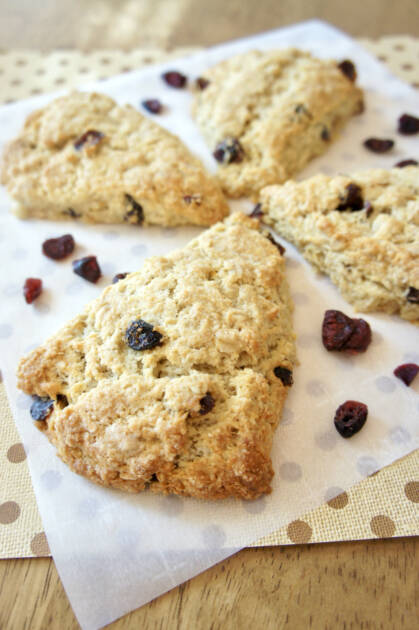 Ingredients
· 2 cups all-purpose flour
· 1/2 cup old-fashioned oats
· 1/4 tsp. salt
· generous 1/4 tsp. cinnamon
· 3/4 tsp. baking powder
· 3/4 tsp. baking soda
· 6 1/2 Tbsp. white sugar
· 10 Tbsp. cold butter
· zest of 1 orange
· 1/2 c. dried cranberries
· 1/3 c. Greek yogurt
· 2/3 c. oat milk (or other milk)
Instructions:
1. Preheat oven to 375 degrees and line a rimless baking sheet with parchment paper.
2. In a large bowl, combine flour, oats, salt, cinnamon, baking powder, baking soda, and sugar. Using a box grater, grate in the cold butter and mix until the dough is crumbly. Zest 1 orange directly into the bowl, add cranberries, and mix.
3. In a measuring cup, combine Greek yogurt and oat milk. Pour into the dough little by little until moist enough that it comes together in a cohesive ball. (You may not use all of the oat milk mixture.)
4. On the parchment-lined baking sheet, flatten the dough ball into a 2-inch-tall disc. Using a sharp knife, slice the disc into 8 equal pieces and separate them slightly.
5. Bake in the preheated oven for about 25 minutes or until the tops of the scones begin to brown. Store in an airtight container.
Notes: Servings: Makes 8 scones
Enjoy one or all these recipes and your mom is certain to be delighted and enjoy her Mother's Day!
Comments
comments