As an engagement ring slips onto a bride-to-be's finger, she has already been dreaming of what she will look like on her wedding day. If ever there was a time where you wanted to look and feel your best, your wedding day is it. No bride envisions back rolls over the top of her dress or jiggling arms as she walks down the aisle!
Special events and weddings in particular, are often used as a goal for people to lose weight or get in shape. What bride doesn't want to look her best on her special day? I remember when an old boyfriend's older sister was getting married and I overheard her uncle say, "She'll never be thin. If she didn't lose weight for her own wedding, there's no hope." I wasn't heavy at the time, but his words certainly stuck with me.
As my weight slowly crept up, and I weighed much more than I had dreamt of for my own wedding day, I remembered his dire warning. Was it true? Would I never be thin just because I couldn't lose weight for my big day?
Well, I'm happy to report that I was able to eventually lose weight and, while I missed the wedding mark, I did get in shape just in time for a big high school reunion. I remember borrowing a dress I had admired from my very fit BFF, who was also a dancer. I remember being more excited that I fit into one of her dresses than almost anything else that day.
I regret that I wasn't able to look my best when I look back at my wedding pictures. To be truthful, I almost don't recognize myself in my wedding album and, unfortunately, I'm not alone. Once, my cleaning lady didn't believe that it was me in a wedding photo and, when I confirmed that it was, she looked at her friend and said something in Portuguese that included the word "gorda." After three years of high school Spanish, I know the word "fat" in Spanish when I hear it!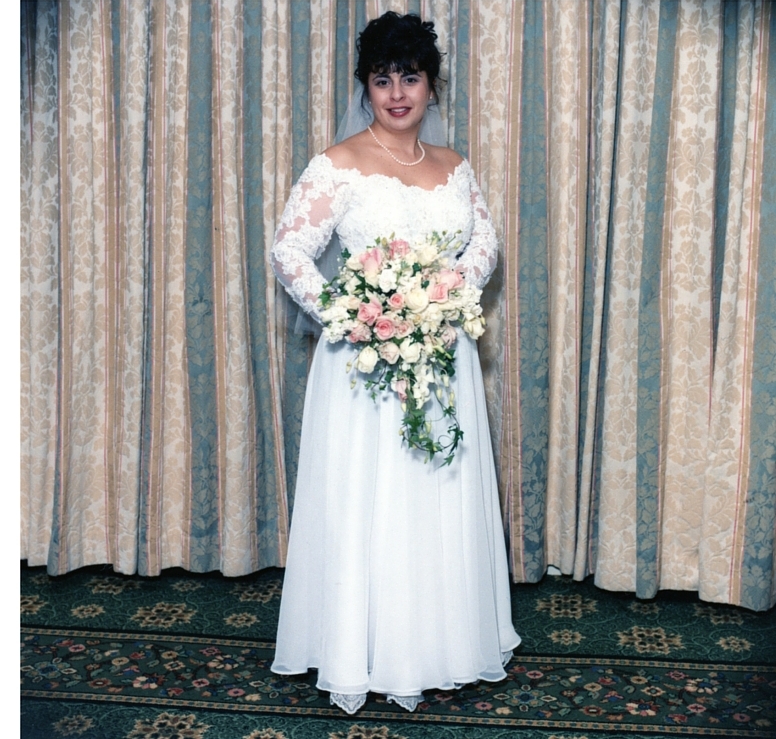 I tell people that weddings are in my blood. My mother owned a bridal shop for decades and I remember helping sew bridal veils when I was as young as five years old. My father ran a limousine service, and claims to have started the trend of brides using white limousines. He liked to say that, before he started using a white car, brides would rent black limousines from the funeral homes to use in their weddings. In addition, my sister was a wedding photographer, my brother works part time as a limousine chauffer, and I also run a disc jockey and entertainment service. I thought some get in shape wedding pointers would be where my two worlds could happily collide!
Here are my top tips for getting into shape for your wedding:
You may want to wear a white dress, but avoid white foods. As a general rule, unless it's cauliflower, try to avoid starchy white carbs like white breads, pastas, rice, potatoes, sugars and a lot of dairy that can wreak havoc on your weight loss goals.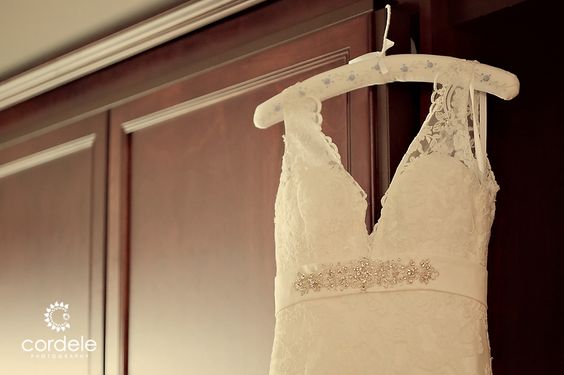 Courtesy of Cordele Photography
Don't be just a cardio queen. Lift weights too! Nothing will change your body more than weigh training. They don't call it "body building" for nothing! You can build the body you want. Put down the weenie weights too. If you can fly through 12 repetitions of an exercise, you're not lifting heavy enough. Heavier weights can do great things for your body and you'll even burn more calories after you've stopped working out and are at rest! Every bride wants toned arms, especially with sleeveless dresses being so popular, so be sure to work in some great bicep work by doing bicep curls, hammer curls and concentration curls, as well as some great triceps exercises like dips, overhead extensions, and kick backs.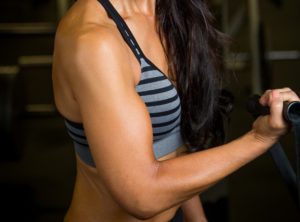 Photo by David Volkmann
Involve your fiancé and bridal party! Sign up for ballroom dance lessons with your fiancé. This way you'll rock both the dress and the dance floor! Try planning fun and physical get-togethers with your bridesmaids like taking a yoga, Zumba or Aerial Arts class together. You can also plan a fun hike together, or include the whole bridal party and participate in a paint ball or laser tag match.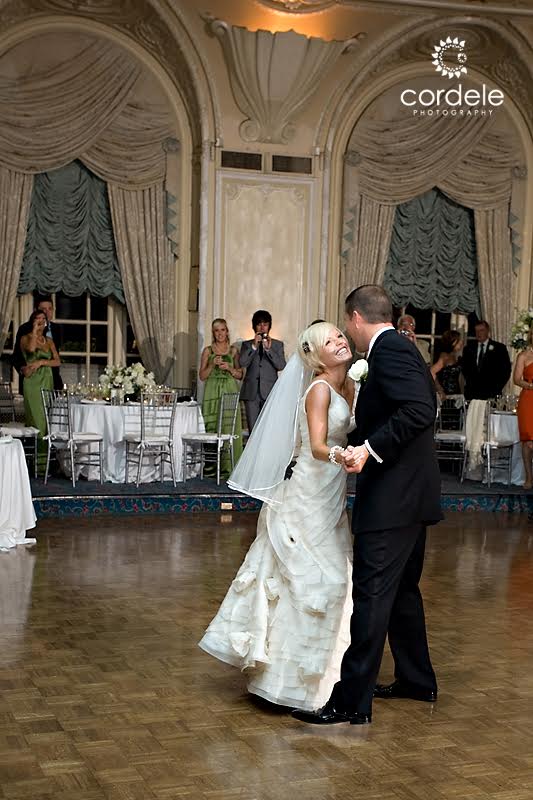 BLT's count: bites, licks and tastes add up. Sips do too, so try your best not to drink your calories!
Try to think of food as a choice and not as a reward or punishment. You don't "deserve" a decadent dessert, nor are you depriving yourself if you don't have it.
Planning a wedding can also bring with it a fair amount of stress. If you're a stress eater try to substitute healthier alternatives to your less healthy choices. I tell myself that my workouts will physically give me the strength to handle whatever life throws in my path.
Your wedding album will be a permanent reminder of one of the most important days of your life… make it something to be proud of! If you fall short of your goal, there's still hope!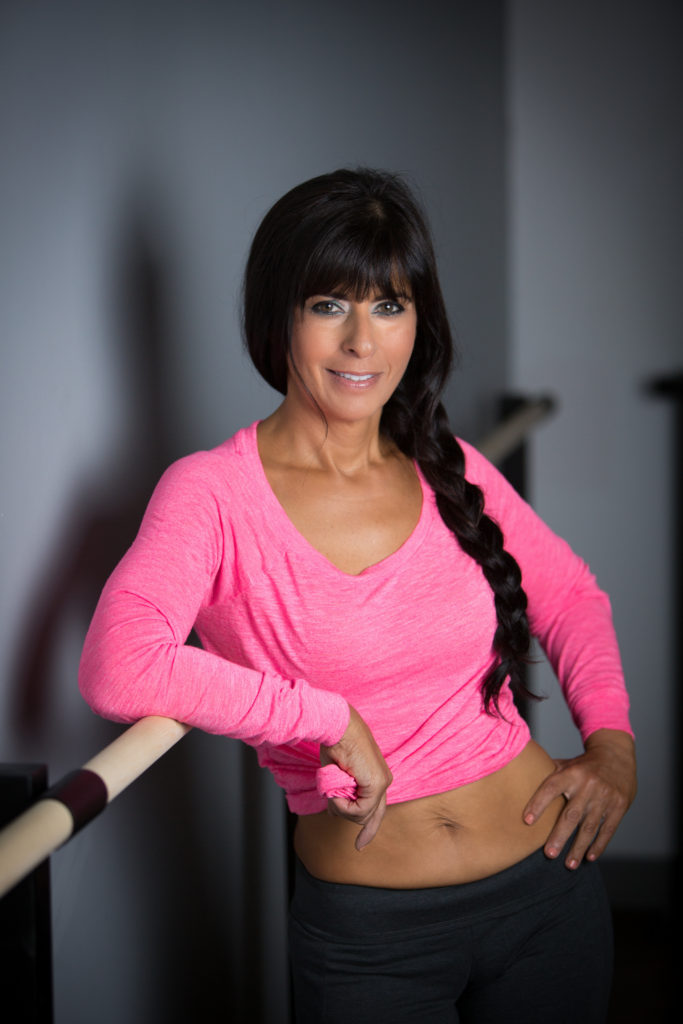 Photo by David Volkmann
Other Wedding photo courtesy of Cordele Photography
Comments
comments