I feel like I took a hundred first steps in my attempt to lose nearly one hundred pounds.  Each time I started a program, whether it was Weight Watchers, Diet Workshop, Nutrisystem, Jenny Craig, Slim Fast, Atkins, South Beach or the many other things I'd signed up for, paid for, or attempted to do, I would start out full throttle. Shortly thereafter, and I'm not quite sure how it happened exactly, I'd get frustrated that it didn't seem to be working for me the way I'd hoped and I'd give up.
As cliché as it sounds, I really did have to come to terms with the fact that in order to lose and, more importantly, keep off ninety-six pounds, I had to make lifestyle changes, and reevaluate my "Thin Thighs in Thirty Days" mentality.  I have kept the weight off for years by realizing that there's no touchdown dance, no finish line, and that it's the culmination of all of my choices, day in and day out, that determine how successful I am with my fitness goals.  Whenever someone asks me how I lost weight, I can visibly see the disappointment on their faces when I start talking about how I workout every day and my approach to food choices.  My response to them is always the same. "I know it's sad.  You wanted me to say I ate cabbage soup on Thursday and the weight just fell off."
I remember, when my niece was a toddler, she had a fuzzy blanket that she loved and she would carry it with her everywhere she went.  A friend of my sister saw my niece with her blanket and suggested that my sister cut off a small piece of the blanket every day and then, eventually, they'd be nothing left.  I remember staring at the woman horrified.  Don't we all have favorite things?  I have a favorite pillow I love and I'd hate to think of someone plucking a feather out of it every day.  Wouldn't the poor kid ultimately suffer trust and loss issues as an adult?  The bit by bit advice she offered was not completely without merit, as there are times when, if you can't be successful giving up something cold turkey, then cutting back a little at a time isn't a bad approach.    It's not as easy as it sounds.  For example, I've learned that for some foods I simply can't have just a little, so it's easier to have none.  When you're trying to lose weight, you'll need to honestly decide what foods go in the reduction category and what foods get kicked to the curb, either for good or for at least until you're in your maintenance goal range.
As a result, because most bread, pasta and white rice fall into my, "One's too many and three's not enough" category, I still almost never have them, but I've never been able to successfully eradicate using light cream and sugar in my coffee.  You have to determine what you really need to keep yourself sane.  I only drink Dunkin Donuts coffee and when I started drinking coffee my order was always "extra/extra," which is Boston-speak for a splash of coffee with my cream and sugar.  I still use cream and sugar in my coffee but, over time, I have significantly cut back on the amounts. I've even used the bit by bit advice for housecleaning because some days a huge project just seems overwhelming, so I will opt for what I like to call my "drawer a day" program, where I just focus on organizing one drawer, shelf or area each day. Like the food choices and workouts, it adds up over time.
I find myself having the "everything in moderation" debate with a lot of people.  It took a lot of honesty and self-awareness for me to accurately assess what I can handle in moderation, and what I can't.  I once coached a friend's daughter about food choices and fitness and she was getting into great shape.  During that time we were both at a birthday party and she stared at me aghast when she saw me eating a cupcake.  I explained, "It's not about never having a cupcake, it's about not ALWAYS having a cupcake.  I'm in my goal weight range now and I chose to have a cupcake but, when I was trying to lose the same weight equivalent of a small baby horse, I didn't have the cupcake."
My best advice is to make small, manageable changes each day, don't get discouraged, and give yourself the time to let your choices change your body bit by bit.   I'm sure a good cabbage soup recipe wouldn't hurt either.
After Photo by: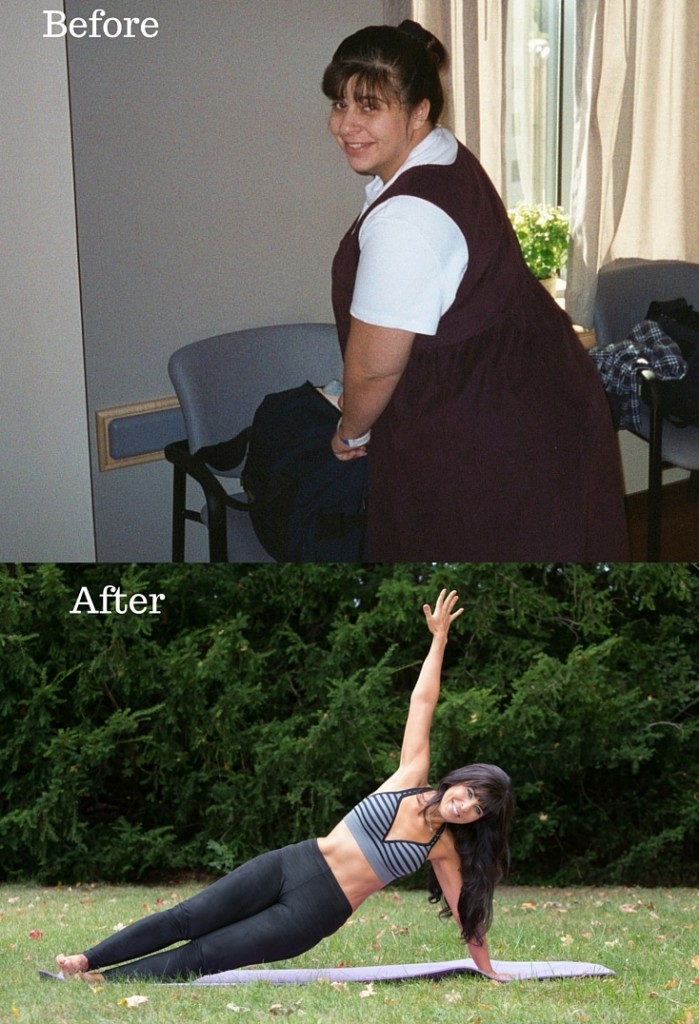 David Volkmann Photography
Hair and make up by: Janeen Jones Hair and Make up
Comments
comments